'You can't please all' – Bhupen Khakhar – Artist spotlight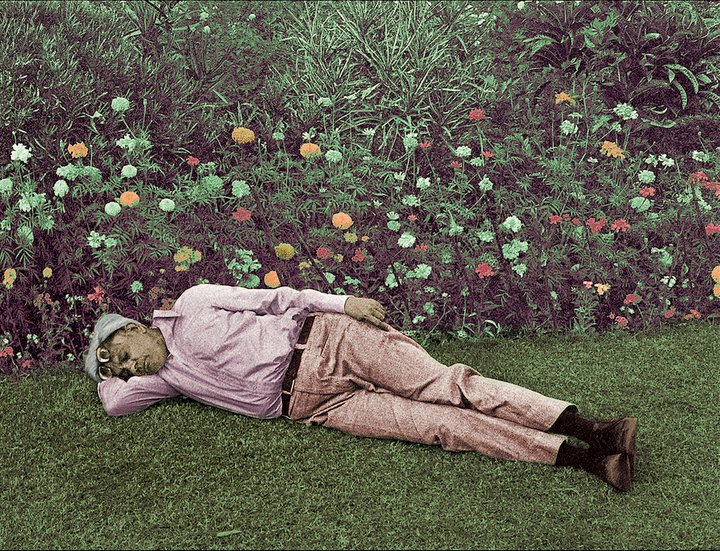 As a part of our journal, we explore the works of Bhupen Khakhar, the multi-faceted artists known to many as the 'Indian Hockney'. Khakar's works have been a beautiful reference point and story we have enjoyed exploring.
Born in 1934, Khakhar was Gujarati living in Bombay. He had a unique journey into the art world. A chartered accountant by trade, Khakar had a  confusing career path which began as a writer, publishing short stories in a Gujarati Journal.
Part of his quest was to find a language that was a hybrid of India and the West, which he achieved through his work. Undecided if he wanted to continue as a writer or artist, there was a fear of not being good enough. With no formal art training, Khakar would start each day by practising sketching (before brushing his teeth).
At the time, Baroda was the leading art school in India. The late 1960s and early 70s was a time when the small Indian art scene was dominated by the Bombay Progressives. This griped Khakar and he felt oppressed by the art scene at the time. He decided to move to Baroda, where he wanted to acquire a cultural base in a relatively small town world to attain a sense of belonging and surrounding.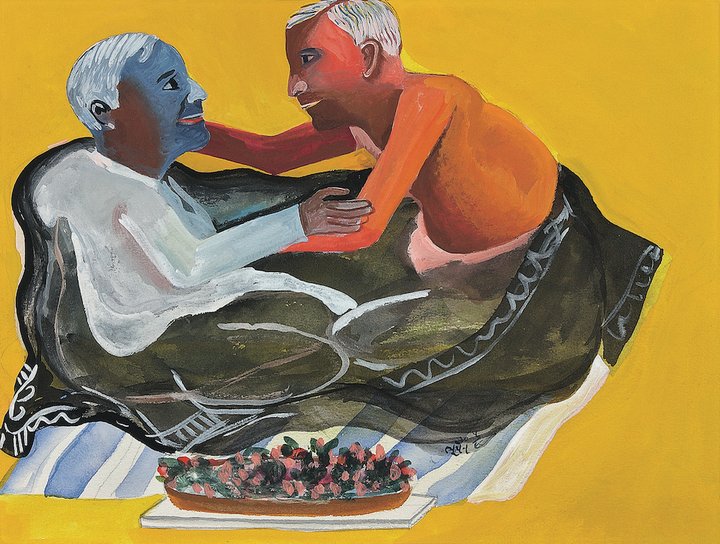 Bhupen began to formulate his view of art in a way slightly against European formalism. The starting point was more in line with pop culture, David Hockney and Howard Hodgkin were certainly important influences on his work and his identity as a gay man in India. His painting 'You Can't Please All' was the conclusion of his own sexuality and his coming out painting.
Khakar's work had a depth of reference, often encompassing large panoramas and figuration; the subject matter was often full of humour and wit. Different from Hockey's California, Bhupen's work was often focused on the spiritual, using old fables, religious deities, local personalities (such as his drunk butler), and dark motifs to his narrative. Ever evolving, his works would often start off as still life and later became portraits.
The style and story to the works were somewhat revolutionary at the time. The use of colour intensity plays with the viewer by almost brushing over what may be a grave story. Khakar believed that artists should reflect their own weakness and vulnerability in their paintings.
Some of our favourites are his early paintings, portraying the lives of local workers and tradesmen, often with straight and amusingly names (Young Man Eating Jelebi; The De-Luxe Tailors). The figurative shapes, bold and 'sub-continental' colours are drawn on for inspiration when designing our pieces, such as the Chela Jacket and Trousers.