Closer to home
Made in Somerset
We felt we could deliver a superior product whilst also preserving and investing in British craft, an important ethos to us as a London-based brand.
The right ingredients
Fine Artisanal Clothing
Located in a county famous for scrumpy cider, dairy (and a good Roman Bath), we wanted to manufacture our latest range using the very best ingredients with British personality. Like many of the finest artisan cheesemakers and cider producers, we have enlisted home-grown expertise and heritage. Working with one of the last independent shirt factories in the UK, we were dedicated to delivering a handcrafted, quality product using the finest cloths and finishings.
Made in limited quantities
Expertly Crafted
Each item has been produced in limited quantities, patiently handcrafted with single-needle stitching, floating interlinings, and mother-of-pearl buttons. The 18 components that make each shirt are patiently cut, sewn and expertly crafted to create a product that stands the test of time.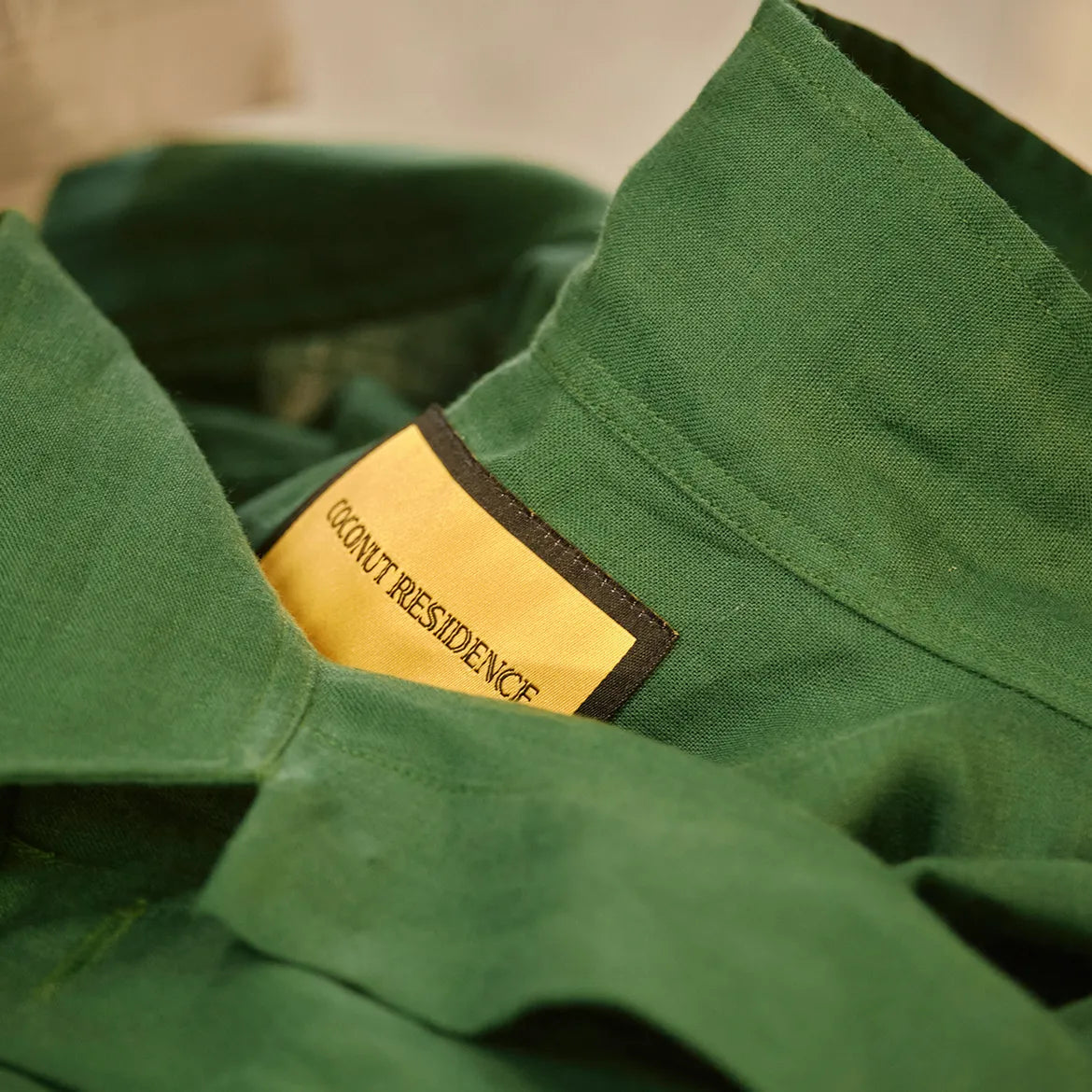 ---
Studio Notes

The Bruton Green Linen Overshirt is our favourite casual staple, drawing inspiration from traditional workwear, it serves as the perfect throw over piece ideal for everyday. Perfect over a t-shirt or polo, it adds a layer of elegance, making you look appealingly stylish yet relaxed. 
Named after the town in Somerset, known for its verdant countryside, the overshirt is a favourite in the wardrobe for everyday wear. Using premium linen woven in Como, Italy, each Overshirt is produced meticulously in the heart of Somerset, England. Individually made in the UK, each Overshirt passes through skilled hands at every stage of production.
The Overshirt pattern has been developed in a regular fit and true to size, making it an easy-breezy companion for your travels wherever you go. The 'shacket' like style mixes the best features of a shirt with the functionality of a light jacket. Finished with a single-needle construction and horn buttons, it also has generous 5 pockets borrowed from the chore jacket silhouette, perfect for your everyday essentials. 
Designed and manufactured to be worn, washed and cherished, it will build character and soften up over time. Wear over a white t-shirt, good denim jeans and plimsolls or loafers for an off-duty stylish and relaxed look.A great and versatile choice for your wardrobe and suitcase.
100% Linen, woven in Como Italy 

Made in Somerset, England

Single one-button cuff

Horn buttons