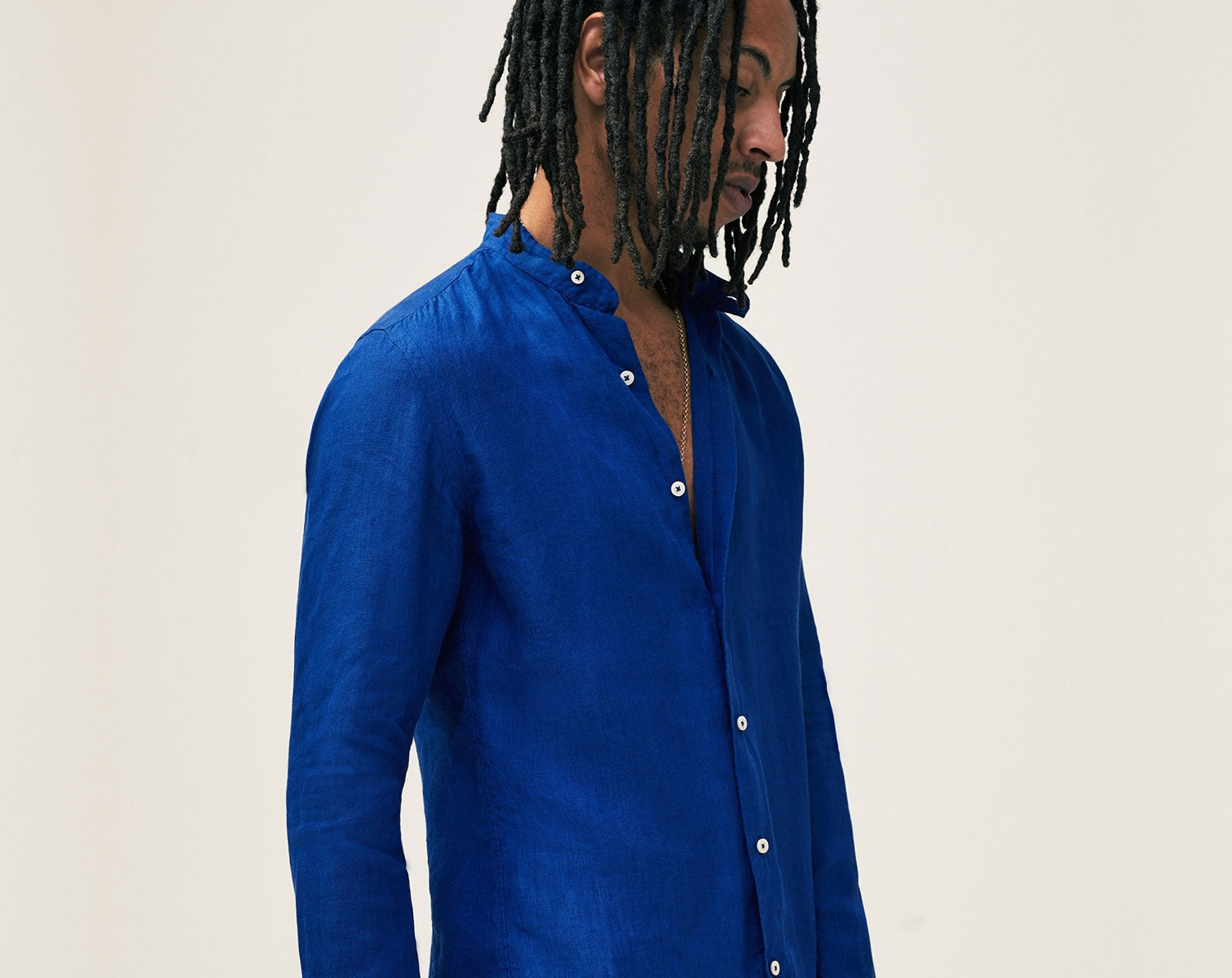 Stay Cool : The Pondicherry Linen Shirt
The aim of a summer shirt might seem easy: to stay cool. There are, however, several pitfalls when buying the right one. Too loud and your friends may greet you with 'Aloha'; the wrong fabric and weave and you may be exposing too much or sweating profusely at the next barbecue.

Thankfully, at Coconut Residence, we have carefully created the finest linen shirt, that ticks all the right boxes and can be worn by anyone.

Our linen is made from rain-irrigated flax, which makes it more sustainable than any other shirting fabric. Linen is a plant-based fabric derived from blue-flowered flax, highly regarded for being diverse, environmentally friendly and sustainable. Linen has long been a favourite for tailoring due to its lightweight, absorbent and breathable characteristics. It is cool to the touch, like our mother-of-pearl buttons, because the fibre is a good conductor (metal feels cool for the same reason).
The flax plant grows best in rich soil and mild climate, where sun and rain alternate and create an ideal growing conditions for high quality flax . The flax fibres we source are rain-fed as opposed to irrigated.
Every year, flax growing in Europe captures 250,000 tonnes of CO2 – saving emissions equivalent to driving a small car around the world 62,000 times.
Flax is fully recyclable and biodegradable; therefore impact on the environment is minimal. Every part of the plant is used, so there is no waste.

Linen tends to wrinkle of course, but that is certainly a part of the charm. Our top tip for wrinkles: Spritz your shirt with clean water, like a houseplant, and leave on a hanger for creases to drop out within minutes!

The right linen shirt should flick on the relax switch and transport you to warmer climes, even for a brief moment. It should feel liberating to wear throughout the day and warmer evenings. Our trademark toucan collar balances smart casual perfectly, whilst providing an understated point of interest. Hand-cut in Tuscany, our block is tailored, yet spacious to allow the breeze and fabric to wick away moisture as the mercury rises.

Not many garments provide the same charm and escapist sensation as a linen shirt, therefore it is certainly worth investing in a quality piece for your wardrobe and suitcase  - a must-have piece for any staycation/vacation you have on the cards!
Our Pondicherry Linen Shirt is available in Mustique Blue and Ivory White
Spotlight
Shivy Studio - Artist Spotlight
As a part of our journal on International Women's Day, we explore the profile of Shivy Galtere, an artist inspired by female empowerment form. Read more about her works from her Brooklyn based studio.
Read more